Welcome to the Third Covid-19 Good News Blog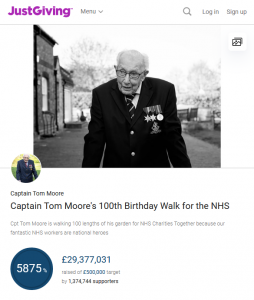 With this third Covid-19 good news blog, we are now several weeks into the UK lockdown and with lockdowns still in place all around the world, we are starting to see light at the end of the tunnel.  New cases are levelling off or declining everywhere, as the spread of the SARS-CoV-2 Covid-19 Coronavirus slows, we are happy to show progress being made in tackling the virus and in society's warmth, compassion and generosity in helping those in need.
Today is Colonel Tom Moore's  100th birthday.  All of us at 3SL wish him a very happy Birthday and thank him for being such an inspirational example of the best of humanity in these trying times. We salute you Colonel Tom!
'Captain Tom Moore', who raised more than £29m for the NHS by walking laps of his garden, has been made an honorary colonel on his 100th birthday.  The war veteran will mark the occasion with thousands of birthday cards, including one from the Queen.
Colonel Tom Moore's 100th birthday will be marked with an RAF flypast, the transport secretary has announced. The war veteran, who has raised more than £29m for the NHS by walking laps of his garden, turns 100 Today, Thursday 30th April.
Colonel Tom Moore has added two Guinness World Records to his list of recent achievements. The 99-year-old former army captain is the oldest ever person to get a number one single in the UK charts, and has raised the most money ever doing an individual charity walk.
With coronavirus outbreaks at different stages around the world, countries are making changes to their restrictions. In some places lockdowns are being eased, in others, like the UK, the restrictions are being kept in place. Elsewhere, they are being strengthened.
University of Oxford researchers began testing a COVID-19 vaccine in human volunteers in Oxford on Thurday April 23rd. Around 1,110 people will take part in the trial, half receiving the vaccine and the other half (the control group) receiving a widely available meningitis vaccine.
A campaign to help combat loneliness in care homes has signed up more than 72,000 volunteers to 'adopt a granny' amid the coronavirus lockdown. The scheme pairs up "caring individuals" with care home residents, who then keep in touch via phone and video calls.
A collection of feel-good news articles related to the coronavirus pandemic and how people all over the world are coming together to help each other.
We are holding our first online Cradle training course in May for Requirements Management and you can book your place upon it here. and you can read more details of the online Cradle training courses here.
Keep coming back for more Covid-19 good news blog posts.
3SL has collated the information in this blog from third party websites, and does not take any responsibility for the accuracy, or lack thereof, of the information in any third-party website.