Welcome to the Fourth Covid-19 Good News Blog – New Antibody Test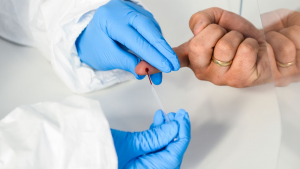 We are happy to show how the light is getting brighter at the end of the tunnel with lockdowns being eased all around the world. We have learned better ways to treat severe cases, reducing mortality and there are several trials of drug treatments which are showing promising outcomes. A new antibody test, with a 100% accuracy,  has been developed very quickly which should help end the lockdowns sooner rather than later.
A new coronavirus antibody test has been found to be 100% accurate, public health leaders have confirmed. Public Health England (PHE) said scientific experts at its Porton Down facility had carried out an independent evaluation of the new blood test developed by a Swiss pharmaceutical company.
A test to find out whether people have been infected with coronavirus in the past has been approved by health officials in England. Public Health England said the antibody test, developed by Swiss pharmaceutical company Roche, was a "very positive development".
The researchers believe that a future phase 3 trial will confirm or refute the usefulness of this candidate drug as a backbone treatment for COVID-19.
After almost seven weeks of lockdown in the UK, Prime Minister Boris Johnson has announced the next phase of the country's response to the coronavirus pandemic. Across Europe, people are already seeing an easing of lockdown measures, as businesses reopen and children start going back to school. Here is how Europeans are emerging from life under lockdown.
By mapping interactions between human proteins and the new coronavirus, researchers have pinpointed 29 potential treatments using drugs already approved by the Food and Drug Administration (FDA) for a wide range of other conditions.
Artificial intelligence is being used to create a 'one-stop shop' of the world's leading coronavirus research. A team at The Institute of Cancer Research in London has adapted its existing system, which sources data on cancer research and drugs, to improve existing information and accelerate new knowledge into COVID-19.
Captain Tom Moore says he feels "honoured and humbled" after being awarded the Freedom of the City of London in a virtual ceremony. The war veteran raised more than £32m for the NHS by completing 100 laps of his Bedfordshire garden by the time he reached his 100th birthday in April.
A collection of feel-good news articles related to the coronavirus pandemic and how people all over the world are coming together to help each other.
We are holding our first online Cradle training course in May for Requirements Management and you can book your place upon it here. and you can read more details of the online Cradle training courses here.
Keep coming back for more Covid-19 good news blog posts.
3SL has collated the information in this blog from third party websites, and does not take any responsibility for the accuracy, or lack thereof, of the information in any third-party website.