Our Cradle "cloud" services (SaaS – Software as a Service) provide access to 3SL's Requirements Management and Systems Engineering tool – Cradle using remote servers. This means there is no need to install the software on your company systems.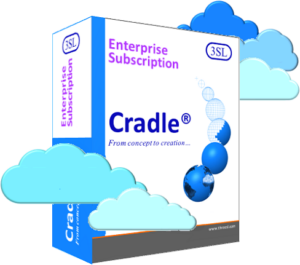 They are also a cost effective way to get up and running with Cradle.
3SL offers a choice of Cradle-Enterprise systems delivered as Cradle cloud services from a choice of servers, in a range of fixed term subscriptions, each accessed by your choice of concurrent users.
The Cradle service provides Cradle directly to the users from a remote environment managed by 3SL:
In a matter of days from order
With no software installations
Needing no, or little, work from your IT
What is the Cradle Service?
The Cradle service:
Is a self-contained set of Cradle and third party software tools
Is integrated with your filesystems and printers
Is secure and resilient
Needs no administration by your organisation
If you wish, is linked to your corporate email
If you wish, is run on servers exclusive to you
The Cradle service delivers the latest version of Cradle, and related applications directly to user's desktops. Cradle and the other tools appear in windows like any other application that a user runs locally. But Cradle, and your databases, all run on remote servers inside the Cradle service.
You can have any number of databases. They, and the data inside them, are private to you. 3SL will manage the service so you can be assured that it is always available.
You can choose a lower cost shared service or a dedicated service. In the shared service, you share servers at 3SL in the UK with other subscribers, keeping privacy of your data and databases. In a dedicated service, 3SL creates a virtual private cloud (VPC) of servers using a third party hosting provider that are exclusive to you and located in any geographic area that you choose.
All databases are backed up automatically with a 3 hour RTO (Recovery Time Objective) and an 8 hour RPO ( Recovery Point Objective). Backups are held for 8 months.
Cradle Subscriptions
The Cradle system types available as a subscription are:
Cradle Enterprise-RM Basic – requirements management including the ability to generate metrics and dashboards
Cradle Enterprise-RM Pro – requirements management including the ability to generate metrics, dashboards and produce quality documentation
Cradle Enterprise-SE Basic – systems engineering including systems modelling and the ability to generate metrics and dashboards
Cradle Enterprise-SE Pro – systems engineering including system modelling and the ability to generate metrics, dashboards and produce quality documentation
The Cradle subscriptions can be packaged into simple fixed term durations ranging from one month to sixty months. This allows you to budget and ensure cover for a whole host of proejcts. You will be free to finish or renew as your project needs at the end of the term.
Cradle SaaS in a Nutshell
Choose from a range of Cradle Enterprise systems to provide the capabilities you need
Choose a shared or dedicated host environment
Specify the number of users that you need to have access to the environment
Specify how long you want the service for
Work in any number of databases
Upload and download data and results easily from your local IT systems
Print directly to your local devices if needed
On-boarding service to help you get started
Off-boarding service to preserve your work before your subscription ends
Add extra terms and change who can access the service at any time
For pricing of the Cradle subscriptions please visit our website.