Toolsuite
Cradle Toolsuite is compatible with both 2013 and 2016 Office 365. To see all Toolsuite compatibility see this page. Toolsuite should work with Office 365 the same as with a normal Office install. Occasionally there are problems due to issues with Office 365 not always with Toolsuite.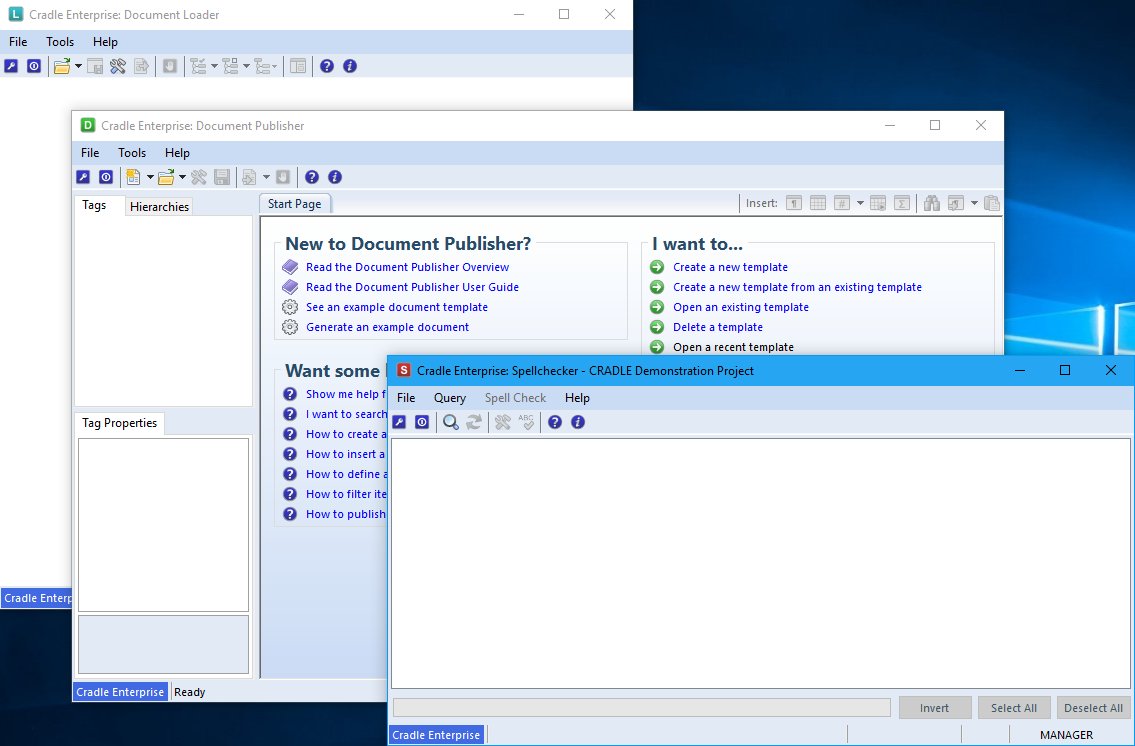 Office Updates
Recently there was an issue with an update to Office 365 which stopped our InstallShield correctly detecting the installed version. This issue has been fixed by changing our detection routine in a patch release. If you are seeing this issue with your original install files, please download the latest files and try again. Unfortunately this could happen again as we have no control over these updates. All 3SL can do is update our routines as and when this comes to our attention.
Occasionally when Office is updated and when newly installed, it requires you to Accept new terms. If you have not done this then you will see an Error when trying to start Toolsuite applications.
Error instartup: Object reference not set to an instance of an object
Windows 10 Updates
Since a Windows 10 update earlier this year everything is running slower on may different Microsoft™ Windows flavours. Word can open slower and this can cause issues if you are trying to publish a document. There is no work around for this except to keep trying to publish. Check this blog for more information but the summary so far is:
With Windows 10 on newer silicon (2016-era PCs with Skylake, Kabylake or newer CPU), benchmarks show single-digit slowdowns, but we don't expect most users to notice a change because these percentages are reflected in milliseconds.
Aklso on Windows 10 on older silicon (2015-era PCs with Haswell or older CPU), some benchmarks show more significant slowdowns, and we expect that some users will notice a decrease in system performance.
Windows 8 and Windows 7 on older silicon (2015-era PCs with Haswell or older CPU), we expect most users to notice a decrease in system performance.
Windows Server on any silicon, especially in any IO-intensive application, shows a more significant performance impact when you enable the mitigations to isolate untrusted code within a Windows Server instance. This is why you want to be careful to evaluate the risk of untrusted code for each Windows Server instance, and balance the security versus performance trade-off for your environment.
Connection or Server Issues
Occasionally the Microsoft server or the connection is down (DownDetector) and this can also cause issues with the Office and Toolsuite. There is no work around for this except patience. Once the connection/server is fixed and up and running you should have no issues with Toolsuite.
Subscription and MSI installs
Having a mix of subscription and Microsoft Installer based MS Office installs can cause detection issues during a Toolsuite install. For example the user has a click-to-run Office 2013  installed but a Microsoft Installer version of MS Project or Visio™. This has been fixed by altering how we detect the architecture of the Office applications.
Mixed Office Versions
It is recommended in our install guides not to have mixed Office environments. For example you may have MS Office 2010 but Project 2016. These type of environments can cause install issues. Even once an install is successful there can be application issues including the loading and publishing documents.