G-Cloud 11
The UK government Digital Market Place Cloud Software applications offer a wide range of software aimed at fulfilment of central and regional government contracts,  government agencies' work and local authority use. This ranges from accounting to transport, healthcare to sales. We are pleased to announce that Cradle is available as SaaS through G-Cloud 11 for agile and phase-based projects under the Information and communications technology (ICT) services.
Services
We are offering a range of packaged SaaS services that include Cradle licences, a pre-defined schema and intensive support from 3SL for both unclassified (IL0) and OFFICIAL (certified IL3) deployments:
Prices start from as little as  £20 per user per month. Including Email, webchat and phone support and full documentation included. Optional onsite support and training available.  This can be supplied on Windows® or Linux®.
Customisation
A wide range of user customisation is available including:
Items' (attributes, links and  properties)
Display of chosen data and layout through queries, views, forms,
Processing data to give graphs, reports, documents, metrics, KPIs/dashboards, process
CM (Configuration Management) system  workflows
UI (User Interface)  layout and content
Authentication and access control
Details
For details, see here: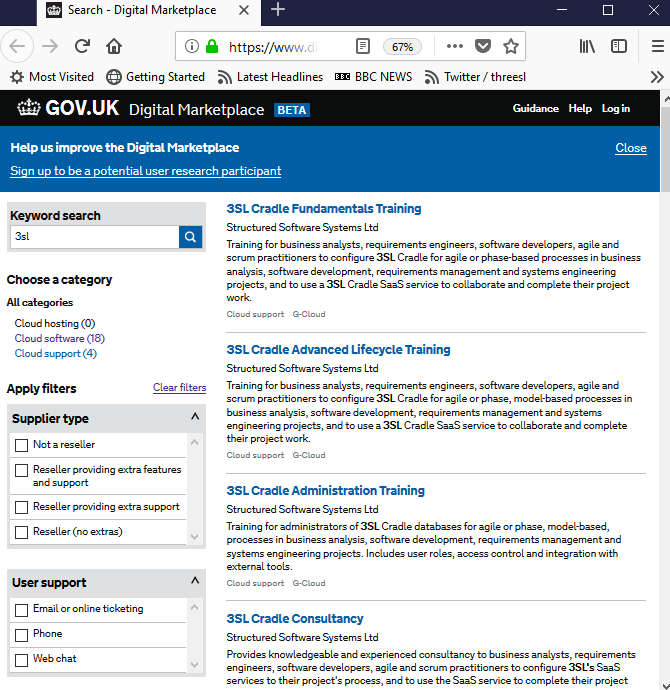 https://www.digitalmarketplace.service.gov.uk/g-cloud/search?q=3sl&lot=cloud-software For a short summary of Cradle, see our video here: We're sure you'll find our services useful to completing successful projects. We look forward to working with you!