Disconnect Users and Release Licences
Users can be disconnected and their licences released by another user from Project Manager without the need of restarting the CDS.
This could be useful in the following circumstances:
A user has left a login dialog open locking a RW connection
A user has locked a licence and cannot manually release it
You have locked a project for maintenance and need to remove users while the maintenance is carried out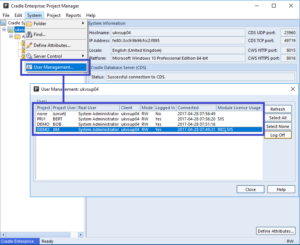 Solution
Disconnect your users through Cradle's Project Manager. To disconnect a user select User Management… from the System pulldown menu which produces a User Management dialog, from here you can see details of all connections to the CDS, select a user and then choose Log Off. This will kill the connection and free up any licences they had in use.