Welcome to the latest newsletter from 3SL that provides a mixture of news and technical information about us, and our requirements management and systems engineering tool "Cradle". We would especially like to welcome everyone who has purchased Cradle in the past month and those who are currently evaluating Cradle for their projects and processes.
We hope that we, and Cradle, can deliver real and measurable benefits to all of the exciting development projects that we see every day through your regular contacts with our support team. If you have any problems, please do not hesitate to contact 3SL support here.
Showing Cell Titles in Views
Sometimes when displaying a nested view the cell titles take up a lot of space on the screen.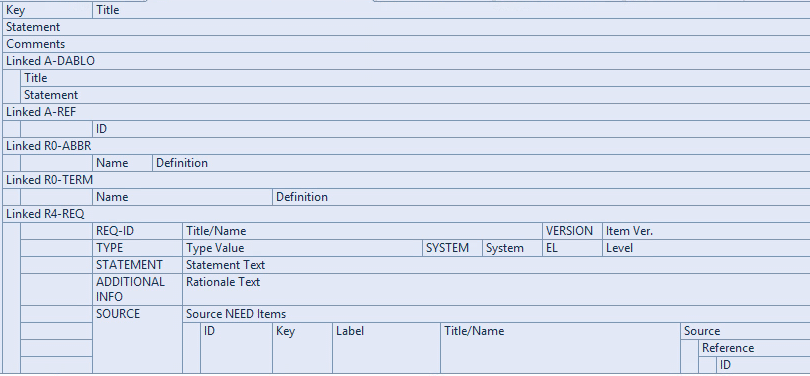 Within the View Details dialog you have the option to choose whether you want to display the cell titles: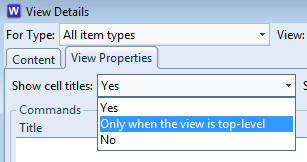 As you can see you can choose to either:
Show the cell titles
Hide the cell titles
Show the cell titles only when the view is top-level
You can change the visibility of any of the component views that are being used to show linked items. In practice, most people either hide everything or show everything.
For further information on views please see our online help page.
Help with Cradle-7.7
Following on from our recent Cradle-7.7 release, if you are not already a customer and would like more information about Cradle, you can download the software and a free evaluation licence. You can find this on our website, or  you can request a webinar. If you are a customer and would like to upgrade, please contact 3SL for a Security Code and for any assistance you may require with the upgrade.
Upcoming Training Courses
We still have places available on our September Risk Management course. Learn how to identify, analyse, evaluate, treat and monitor the risks associated with activities or events within your business. This course is designed for project team leaders or managers who administer and manage risks.
To book a place on one of our online courses please click here!
G-Cloud 13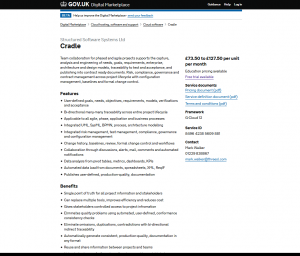 The UK government Digital Market Place Cloud Software applications offer a wide range of software aimed at fulfilment of central and regional government contracts, government agencies' work and local authority use. This ranges from Schools, education and libraries to Fault management, monitoring and alerting  or Marketing. 3SL (Structured Software Systems Ltd.) continue our presence in G-Cloud 12 but are proud  to announce that Cradle has been successful on G-Cloud 13 and will be available as SaaS through G-Cloud 13 for agile and phase-based projects under the Information and communications technology (ICT) services when it goes live in November.
Services
Cradle offers two packages Cradle Software as SaaS and Cradle Training and Consultancy.
Software
The software package includes Cradle licences, a pre-defined schema and a comprehensive support package. This can be used in  both unclassified (IL0) and OFFICIAL (certified IL3) deployments and covers the following elements:
Agile Collaboration
Application Lifecycle Development
Application Lifecycle Management
Agile Software Development
Agile Software Management
Business Analysis
Business Process Modelling
Defect Tracking
Enterprise Architecture
Integrated Risk Management
Integrated Test Management
Lifecycle Management
MBE Model Based Engineering
MBSE Model Based Software Engineering
MBSE Model Based Systems Engineering
Requirements and Testing
Requirements Engineering
Requirements Management
Risk Assessment
Risk Compliance
Risk Management
SysML Modelling
Systems Engineering
Test Execution
Test Management
Test Planning
UML Modelling
Cradle Training/Consultancy
Consultancy
Administration Training
Fundamentals Training
Advanced Lifecycle Training
Prices start from as little as £50.00 per user per month. Including email and phone support and full documentation included. Optional onsite support and training is available. This can be supplied on Windows® or Linux®.
Customisation
A wide range of user customisation is available including:
Items' (attributes, links and properties)
Display of chosen data and layout through queries, views, forms,
Processing data to give graphs, reports, documents, metrics, KPIs/dashboards, process
CM (Configuration Management) system workflows
UI (User Interface) layout and content
Authentication and access control
Details
For details, see here:
Software
Training/Consultancy
or search for 3SL Cradle.  For an overview of Cradle, see our video here:  We look forward to helping you achieve success on your future projects, or migrating existing 'manual' or disparate works into a fully encompassed solution.