"It will work…" (Probably)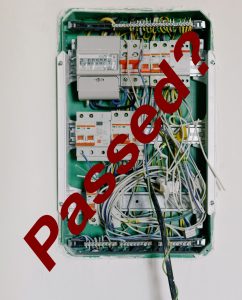 No product manager wants to be confirming their solution's viability without the backup of evidence. It is imperative to test and assure your process or product. Tests should demonstrate conformance with, all the vital parameters that comprise your design; regulatory compliance; ongoing quality.
This whole quality cycle should include test, execution and recording functions.
Appropriate Testing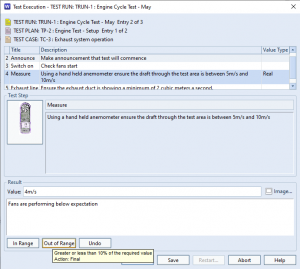 We should accept that these tests, and the effort used, should be commensurate with the importance of the design element. There's every reason to test whether a product can place components with sub-millimetre accuracy if we're designing a circuit board pick and place machine, but within a few mm is probably good enough for a machine placing variable size apples in a packing crate. When testing the same product used in different situations the complexity and accuracy of the test will change. Measuring the slump and hardness of concrete for a garden path, is probably judged by eye, three level compaction in a cone testing for a road, but you'd expect samples to be taken and lab tested it is being poured to form the main tower of a suspension bridge.
Scope
It is also important to test not only for the expected criteria, but the off-norms (off from normal) too. "The program shall accept user input of their weight in kilogrammes and their height in metres. Their BMI shall be displayed as a ratio of their (weight / height) to two decimal places" The previous requirements can be thoroughly tested for a full range of human weights and heights, but then fall over at the first hurdle when a user enters 0 for their height.
Executing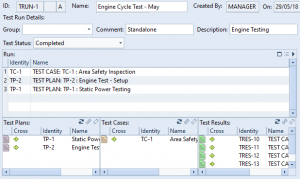 Once developed, the set of tests may need to be run multiple times on the same product as development tweaks are made, or once on each batch of product to ensure ongoing conformity. Services, procedures and physical products can all be tested. Whether that's timing the office evacuation during a fire drill or the alcohol content of a batch of whiskey. It is also important to recognise that each execution set may need to be full or a partial set of the tests.   Every safety harness may be subject to visual inspection and, checks on fastener operation. Every tenth to a set of detailed measurements and every two hundredth to a full destruction test. The ability to execute a set of tests from our full suite is therefore important.
Recording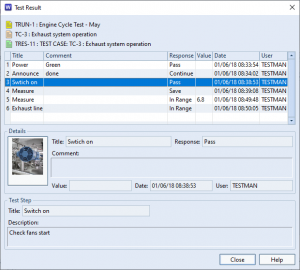 Finally the test execution will produce a set of results which should be recorded. Not only does the recording provide the traceability your QA (Quality assurance) plan should aim for, but it will allow you to investigate trends. How many failures were there last month? Were there more or fewer than the previous month. Is investigation required?
Cradle
Cradle's TEST module  (Test, Execution & Recording (TER)) allows you to directly link Test Cases to your requirements, needs, or design elements. You can then define Test Plans and Test Executions to group and run these tests. And as you'd expect the tool will record the Test Results against each Test Step.
For more information download an evaluation copy of Cradle or book a webinar now.
TER video