Using Project Manager with Multiple Projects and Passwords
In an environment where you have numerous projects that you switch between, using Project Manager to Login can save retyping your Cradle password.
If you have many projects that you need to switch between and don't have a limitless desktop to open multiple copies of Cradle or don't want to lock multiple licences, use Project Manager to look after switching.
Once you Login  to a project through Project Manager your Cradle password is cached for that session. You can then access the project through WorkBench, Web Access, or the Toolsuite applications; Document Loader, Document Publisher or Spell Checker. When you exit a tool, you can open another project through Project Manager as you work through your day. When  you need to re-enter any previous projects, you'll only need to use the Open command as your login details will be cached.
If you need to clear the cache (for security reasons) then simply use the Clear User Cache option. Alternatively close Project Manager.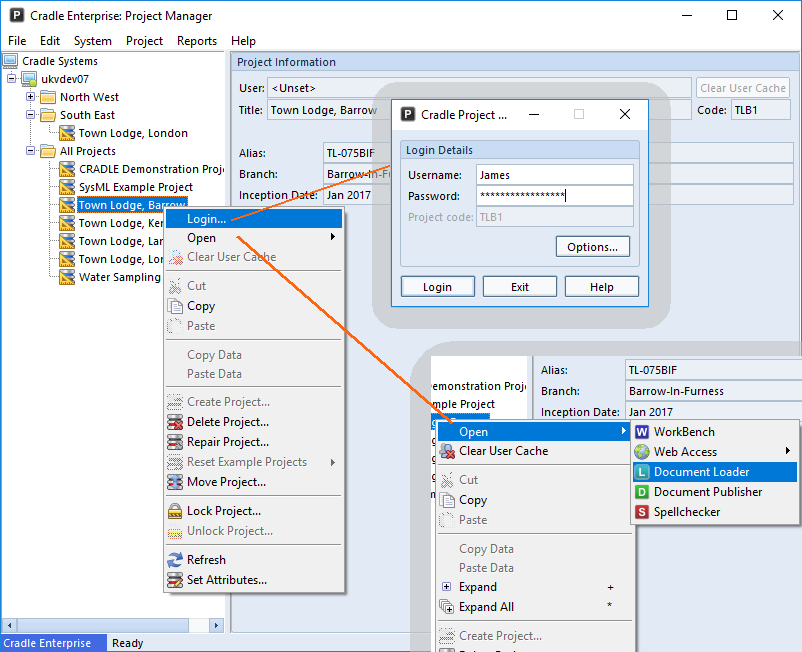 LDAP Lightweight Directory Access Protocol
For an alternative way to manage your logins and passwords, see Cradle help LDAP Authentication.
Switch User
Another option to change to a different user is to use the "Switch Identity" option, this can be enabled in the "User Setup" A User Profile's switch identity can only be set if you have read-write access to the User Profile. If you have no access to a User Profile, you cannot see any part of it, including the switch identity. If you have read-only access to a User Profile, the switch identity is disguised in the same manner as the User Profile's password.
Article Updated 04/02/2019 – Added swith user