We all use e-mail as a reliable method for our personal and business communications. However, as we all know, vast numbers of spam, junk and malicious e-mails are also sent every day. Everyone needs protection from the damage that clicking a link or attachment in just one e-mail can do. 3SL has recently changed our 3SL email filters to further reduce our exposure to such threat vectors. We expect that you and your organisation also update your filters regularly.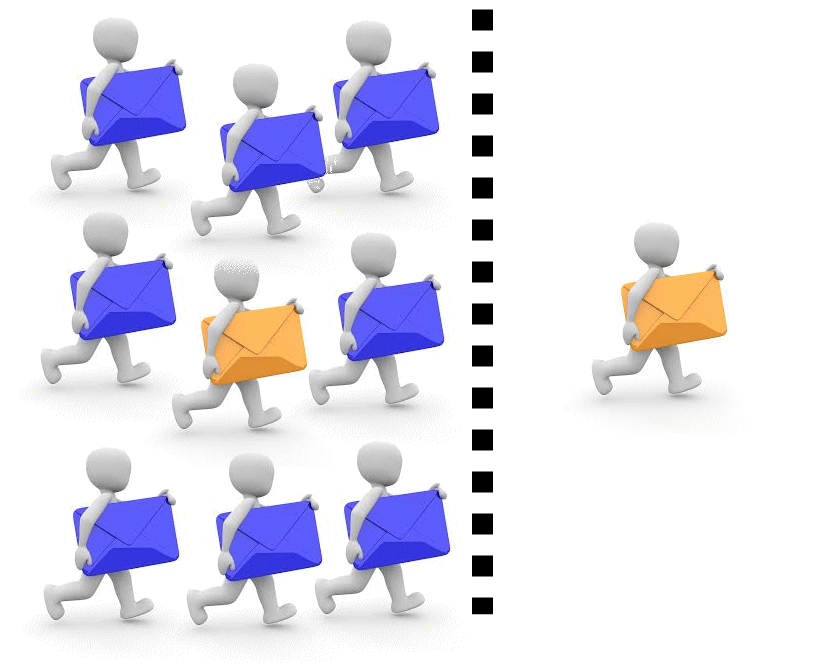 This blog post is a summary of what the 3SL email filters will do.
We are publishing this so that you can reliably send your emails to us. We do not expect that the 3SL email filters will block any of your emails. But if one of your emails is blocked, this blog post may help to explain why.
Principles of 3SL Email Filters
We will obviously not disclose full details of the 3SL email filters. You would not expect us to do something that silly. There are some general principles which we will publish, which are:
The more malicious an email is, the less likely our mail server is to provide an informative response to the sender, or their mail server
The more malicious an email is, the more likely we are to provide false responses, or no response, to the sending mail server
We use all available blacklists to ignore all known malicious senders and mail relays. Either we access them online, or we keep local copies and then update them regularly.
3SL always reports malicious financial emails to the organisation that they are supposed to come from
We report all malicious e-mails to blacklist sites wherever possible
We automatically block emails based on their from, to, subject, content, formatting and attachments
Any e-mails sent to undisclosed recipients or with multiple from tags will be rejected
We operate our own blacklists, for people we dislike
Emails from people we especially dislike are automatically sent to spam reporting sites
We operate our own whitelists, for people we like!
All e-mails and all of their attachments are scanned for viruses and other nasty tricks(!)
Email Attachments
The types of attachment to an email is an important part of the 3SL email filters. Therefore, the 3SL email filters are very sensitive to the types of files that are attached to e-mails.
We currently block everything that is remotely executable. This includes the obvious ones, such as:
exe files
scr files
msi files
.bat files
.cmd files
.lnk files
.com files
and many others.
We also block file types that are common vehicles for malicious code, including the obvious ones:
and others that we will keep to ourselves!
In total, we block over 20 file types.
Accepted Attached File Types
We want to receive your e-mails! Therefore, if you need to send any attachments with your e-mail, only send:
Microsoft Office files
Open Office files
PDF files
Plain or rich text files
Cradle import/export files
Simple images
We will detect macros in e-mail attachments. So, please don't send us any file with a macro inside it!
If you send a file containing a macro, then either your e-mail will be rejected or, if you are in our whitelist – and this includes customers – then your e-mail may be logged as spam, or it may be rejected.
Alternatives to Email for File Exchange
If we need to exchange files with you that would be blocked by our email system, or by yours, there is an alternative!
Every login account in our website can have a file transfer area. You can use this area to download any type of file from us. You can use this area to upload any type of file to us. Therefore, this mechanism avoids any need for us, or you, to send files by e-mail that either of our mail systems would block.
We think that this mechanism is very useful. 3SL asks all of our customers to consider using this mechanism. We hope that you will agree.  Therefore:
If you have a login to our website, we can enable this facility for you.
If you do not have a login to our website, please register and create one!
Your organisation may also provide a secure file transfer mechanism. If so, tell us about it. We will be pleased to use it.
Help Us to Help You
Obviously, we never send anything malicious to anyone. Equally obviously, we do not ever knowingly send any emails that could be regarded as spam, malicious or suspicious. So we would be concerned if you do not receive any of our emails.
Therefore, please tell us if you believe that we are sending emails that are being blocked by your mail system.
If this happens, then we will work with you and your IT to either:
Add 3SL to your organisation's whitelist, and therefore none of our e-mails will ever be blocked
Or we will change the format of our emails so they are acceptable to your organisation