3SL Introduce 'Cradle Subscriptions' .
3SL are would like to announce our latest product. The Cradle Subscriptions option is a SaaS (Software as a Service) product that that provides access to 3SL's requirements management and systems engineering tool Cradle using remote servers. There will be no need to install software on your own company systems.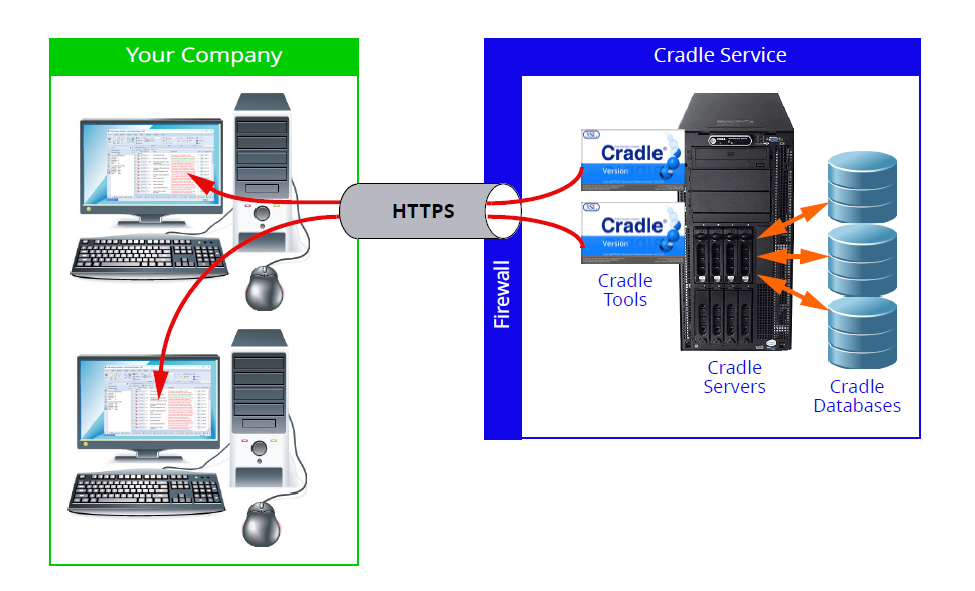 Configurations
Cradle Enterprise offers huge flexibility in terms of the modules you can choose to licence and how many of each concurrent user you'll need. This provides ultimate flexibility. In order to provide a hosted service and keep administration simple, Cradle 'SaaS' will be offered in four 'flavours' similar to the versions available as single user products. We offer the most popular licences in collection at a set ratio depending on the number of users.
So whether you are collating requirements, designing a system model, running a dashboard or publishing a document, there's a SaaS collection form you.
Cradle Licences Collection
Enterprise-RM Basic
Enterprise-RM Pro
Enterprise-SE Basic
Enterprise-SE Pro
Functions
Requirements elicitation and processing.
Requirements elicitation and processing with project management functions and publishing
Requirements and System modelling.
Requirements and System modelling,
project management functions and publishing
Shared or Dedicated
For smaller projects, at a really keen price, you can pick a shared server hosted by 3SL with a shared database backend. This is ideal to get you up and running or to give you an easy way to test the benefits of an enterprise level system. This would be a great way of quickly scaling from a single user system to an enterprise arrangement as more people onboard to you project.
For larger corporate users wanting a little more control and no shared resource, Cradle is available on a cloud server. There will be a dedicated CDS (Cradle Database Server) just for your projects. This will provide you with the full power of an enterprise system without you needing your own IT hardware or managers.
Terms
Cradle SaaS can be packaged into simple fixed term durations. These will be available from one month to sixty months. This will allow customers to budget and ensure cover for a whole host of projects. You'll be free to finish or renew as your project needs at the end of a term.
Article UpdateD
02/10/2018 – Release of SaaS