Easy Customisation Using Cradle Start-Pages
Yes you can customise the front end UI shown to users.  The simplest way to  customise most used commands, is add them to a Start Page. The example below places a company logo, and the three most used queries on the start page. These are considered the most used actions by the company and therefore, they want them easily accessible when the tool starts. The links are customised to run the specific queries needed most.
Additionally an "Admin" section has been added to get at the User Preferences and Project Schema Setup. This could normally be shown collapsed or 'rolled up' as this is less frequently used.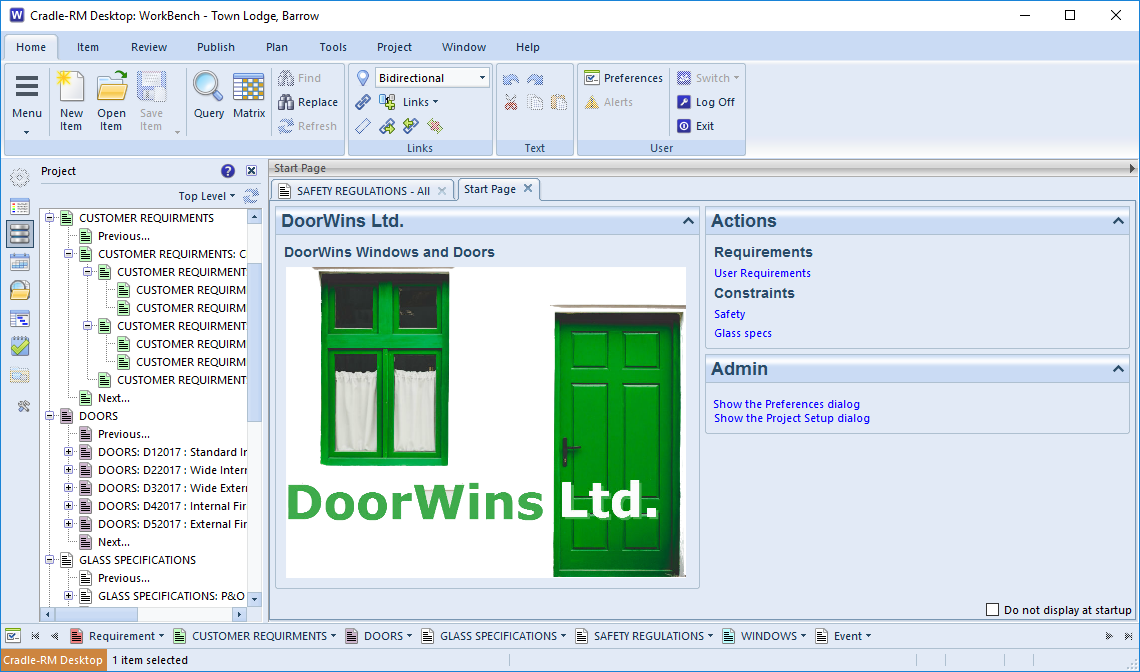 This is the most basic of examples, set so everyone in the project sees the same page when they start up. However, in large teams, start pages can be customised to the Cradle user, personal, team or user type. The selection of page is set in the User Preferences.
Project Phases
In an enterprise environment the company process may be more tightly defined. Customisation of the flow through the project lifecycle would be better represented as groups of actions in the Phase sidebar.
Cradle 7.4 Start Page Enhancement
It is now possible to copy panels and entries and to refresh your list of queries.
When you insert an entry into a start page, the newly created entry is created beneath the selected one, rather than at the bottom of the list. You also have the option to copy start page panels and start page entries.
When creating start pages, it is possible to add queries. If you found there was a query missing that you needed, and you or a colleague created it, it is not automatically added to the cached list in the start page setup. Clicking the  Refresh icon will now relist all the available queries.

For more information on Start Pages click here
Updated 09/08/2018 – Cradle 7.4 Enhancement