Additional frames for Change Requests and Change Tasks can be defined within WorkBench Project Setup.
The Configuration Management System provides a formal mechanism to make changes to items in baselines. The formal change mechanism is based on:
Change Requests (CHRs) which are concerned with general statements of the issue to be addressed, or the problem to be solved, or the defect to be corrected
Change Tasks (CHTs) which are concerned with the mechanics of implementing and effecting the change(s) required by one or more CHRs
Both CHRs and CHTs are distinct types of items in the Cradle database and can contain any number of frames. As with standard item types, CHRs and CHTs are provided with some default frames to populate when raising either the CHR or CHT. These are TEXT and NOTES where TEXT is a mandatory frame as this provides the detail.
However, you can also specify in Project Setup whether these item types have any additional frames defined. This can be:
or any other format defined as a frame type: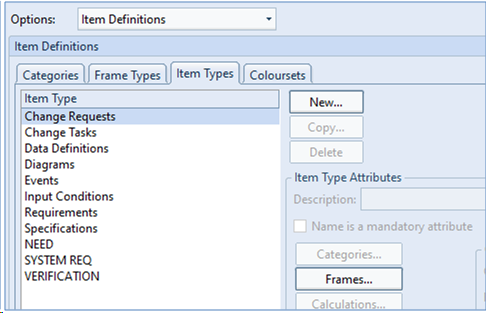 You can also specify the frames to be mandatory so that the CHR or CHT cannot be raised until those frames are populated. As you can see in the example above the Mandatory checkbox is selected for the JUSTIFICATION frame.
This allows you to ensure that all information is provided for your formal changes.