Last Updated on 8th October 2018 by Phil Shaw
We are sometimes asked if it is possible to export the contents of individual baselines. Most commonly for baselines that have been closed in the past. The short answer is yes, and here's how:
Select the Review tab, then 'Set Mode' and choose the baseline to be exported
Select the Project tab, then  'Export' and specify the type(s) of information to export and set the owner to 'Project'
Specify an output filename and any other options needed, and select 'Export'
Note: You should NOT try to import information into old baselines. This is because:
You could easily create inconsistencies in baseline histories that could also prevent the Configuration Management System (CMS) from working correctly
It breaks the principles of good CM and your formal CM process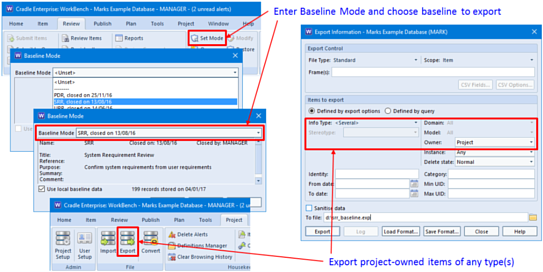 For more information on exporting information from Cradle, this help article may help you.