Last Updated on 9th April 2020 by
Every organisation that deploys Cradle will want to satisfy itself that Cradle is safe to install. One free resource that can help is VirusTotal, at:
You can submit files or URLs to this free checking service and have it checked against a wide range of Anti-Virus (AV) products and resources. An example of a check of the Cradle Database Server (CDS), the file: crsvr.exe, is shown in the figure.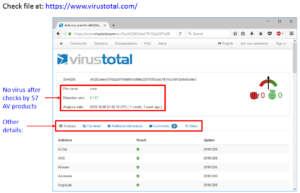 UPDATED: April 2020 – link