Welcome to the June 2023 newsletter from 3SL!
This newsletter contains a mixture of news and technical information about us, and our requirements management and systems engineering tool "Cradle". We would especially like to welcome everyone who has purchased Cradle in the past month and those who are currently evaluating Cradle for their projects and processes.
We hope that 3SL and Cradle can deliver real and measurable benefits that help you to improve the information flow within, the quality and timeliness of, and the traceability, compliance and governance for, all of your current and future projects.
If you have any questions about your use of Cradle, please do not hesitate to contact 3SL Support.
Configuration Management
All projects need configuration management, even if only to create protected copies of the items being worked on in one or more baselines. Cradle Configuration Management System (CMS) is a flexible, customisable framework. You can use the CMS to adapt Cradle to your process and the needs of your project.
The CMS contains a variety of features and capabilities. You can use these to configure the CMS to be a simple change manager. You can also configure the CMS to be extremely rigorous in all stages in the evolution of your project information from initial creation through to formal acceptance.
Summary
The CMS provides four basic mechanisms:
The scope and effect of these mechanisms are controlled by privileges and also by workflows.
Simple Process
A simple CM process is typically a series of stages that items will pass through on their way to a baseline. There are typically no formal reviews in this sequence.
The steps to create a simple process are:
Decide on the stages in your process and what each stage means
Create a category code with these stages as its possible values
Assign this category code to the item type(s) that are to follow the process
Create a workflow that references your category code and define the sequence of stages, each step in the workflow will set items' status to be one of the values in your category code
Assign the workflow to the item type(s)
It is easy to use this workflow. You and your colleagues create items. You change items and link them to other items in the database. At the end of each step, you use the Advance operation to move the items to the next step in the workflow. When items reach the stage of being baselined, someone will need to open a baseline before you can Advance items into it. When everything has been moved into the baseline, it can be closed.
Review Process
A more complex workflow can be for a process that includes reviews. Any number of the steps in a workflow can be a review. You can specify the characteristics of each review. These include:
Which users will be involved in the review?
How many of these users must contribute to the review?
How will an approve result be determined from reviewers' responses?
How will a reject result be determined from reviewers' responses?
What actions are to be performed for items that are rejected by the review?
What actions are to be performed for items that are approved by the review?
Is the rework mechanism to be used and if so, how?
The process to implement a review process is the same as for a simple process except that some of the workflow steps require the configuration of reviews.
Managing Changes to Items
You can review items into project baselines and make formal changes to these items. Use of the CMS is therefore fundamentally about progressing items through one or more reviews into baselines, and then subsequently making formal changes to these items, which culminate in new versions of the changed items appearing in new baselines.
The CMS is not concerned with the details of how changes to items occur. It is not concerned with whether 1 or N edits have occurred to effect a change to an item. It is not concerned with recording the before and after values of the attributes that are affected by each edit, but is simply concerned with the high-level process of agreeing that a change is needed (a change request), initiating consequential changes to one or more items (managed in one or more change tasks), recording the formal reviews of the changed items, and ultimately storing the amended items in a new baseline.
Audit Trail / Configuration Log
For many projects, the automatically and transparently recorded audit trail, and the formalism of the use of change requests (CHRs), change tasks (CHTs), formal reviews and formal baselines, is sufficient. For other projects, more detailed records are required.
Public Training
3SL are running a public CM course in June. If you want to learn more about CM in Cradle, book your place now.
PDUIDs
Project Database Unique IDs are an alternate method for identifying items in a Cradle database. PDUIDs are particularly useful for users of the Cradle Application Programming Interface (API) and Web Services Interface (WSI) because they have the same format for all types of information.
We will provide a series of short articles on PDUIDs over the coming weeks. We hope that these will be helpful.
Integrity of 3SL's SSL Certificates
All of 3SL's web-based services use HTTPS, the secure form of HTTP.  Wherever possible, all of our Internet-based services also use secure protocols. So this means we need a certificate to confirm our identity that your web browser and other tools check when you visit our website and other services.
We have a certificate for:
*.threesl.com
This includes our website, mail server, shared SaaS and other portals. Certificates have a fixed lifespan and so on 9th June we refreshed our certificate. Our current certificate is issued by Sectigo RSA Domain Validation Secure Server CA. It is valid until 23:59:59 UTC Tuesday, 9th July 2024.
You can check the integrity of a website certificate using Qualys here. You can check 3SL's website here. Our site is rated A+: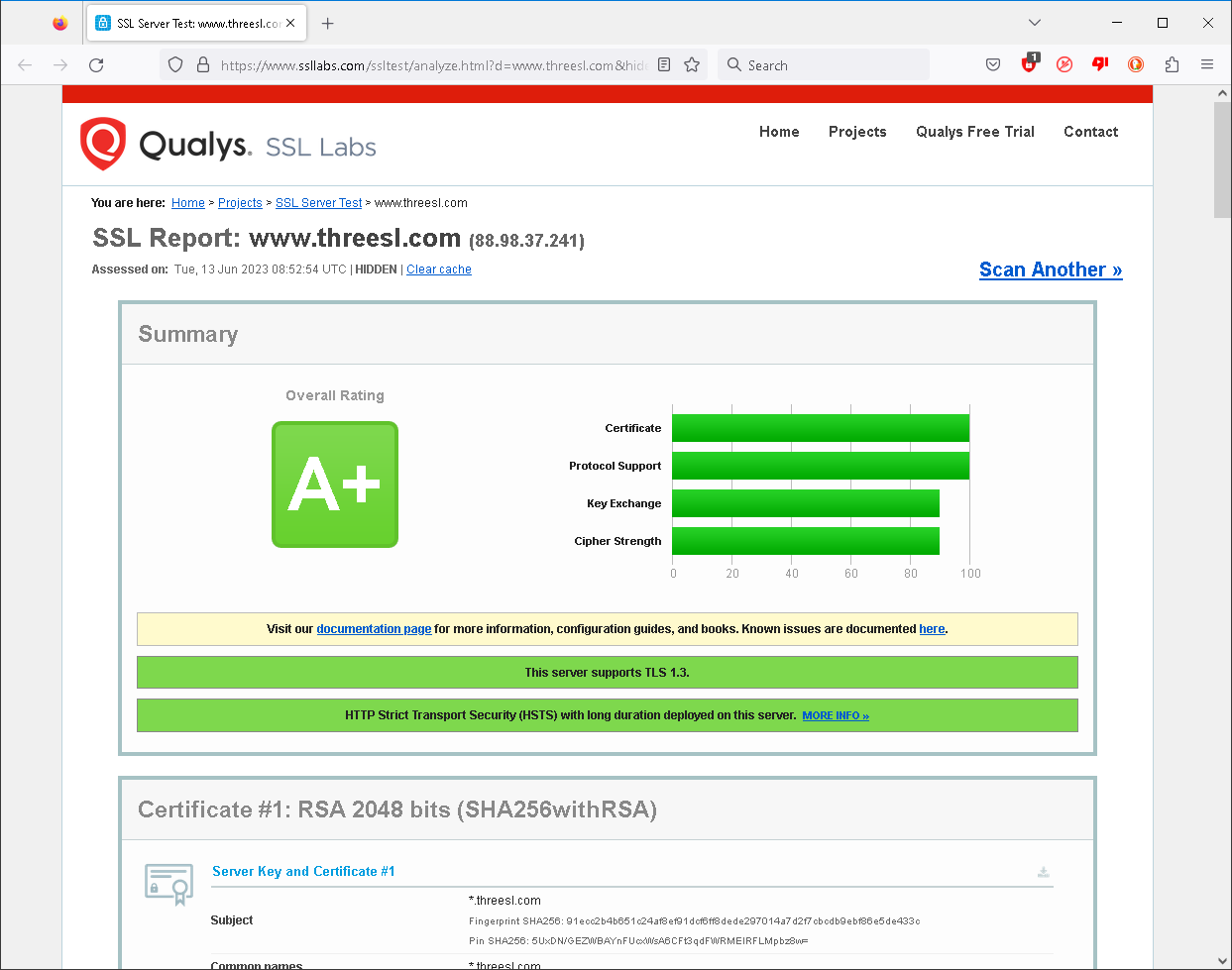 The King's Official Birthday (17th June 2023)
Celebrations of the monarch's official birthday are held in June across the Commonwealth, including the Trooping of the Colour. The date not necessarily correspond to the date of the monarch's actual birth.
The sovereign's birthday was first officially marked in the Kingdom of Great Britain in 1748, for King George II. Since then the date of the king or queen's birthday has been determined by:
Royal proclamations issued by the sovereign or viceroy, or
Statute laws passed by the local parliament
We will individually mark the King's birthday and invite others to do so in respect to the Crown.
Social Media
We congratulated @WeAreHII on their record first quarter 2023 revenues and @Siemens on their outstanding performance.
We also congratulated @KBRincorporated on the award of the contract by Hindustan Petroleum Corporation Ltd. This is to implement supercritical solvent deasphalting technology.
Our customer @MIRAEngineering were exhibiting at the Future Mobility Asia Exhibition & Summit. Did you visit stand ME18?
Looking Back
Last month we discussed:
We would also like to thank all attendees on our Test Execution course which we provided in May.
Still to Come this Month
Your Highlights!
If you have any company news or achievements that you would like 3SL to share in any of our newsletters then please let us know.