Requirements Management Isn't Just For The Big Players.
Your boss says "Don't be ridiculous you don't need, requirements management for windows and doors!"…
Your client has asked that the new Town-Lodge is fitted with UPVC doors, windows and fascias throughout. All fire regulations for a medium occupancy building must be adhered to. Locks must have master key and single key access. Glass must meet the company's privacy specification.  And so on….. Whether you are building a spacecraft with millions of parts with hundreds of engineers, or you're a firm of three fitters running a building service, you have requirements to manage. The HID (Hierarchy Diagram below) shows that a large number of interdependencies, even for the supply of simple items, quickly builds. Consequently the complexity of managing those requirements becomes more of a task. The requirements for windows and doors to a 20 room Town-Lodge involves glass specifications and safety constraints. These may differ depending on the location and size of the window/door. Planning, using a tool can simplify the traceability of any job.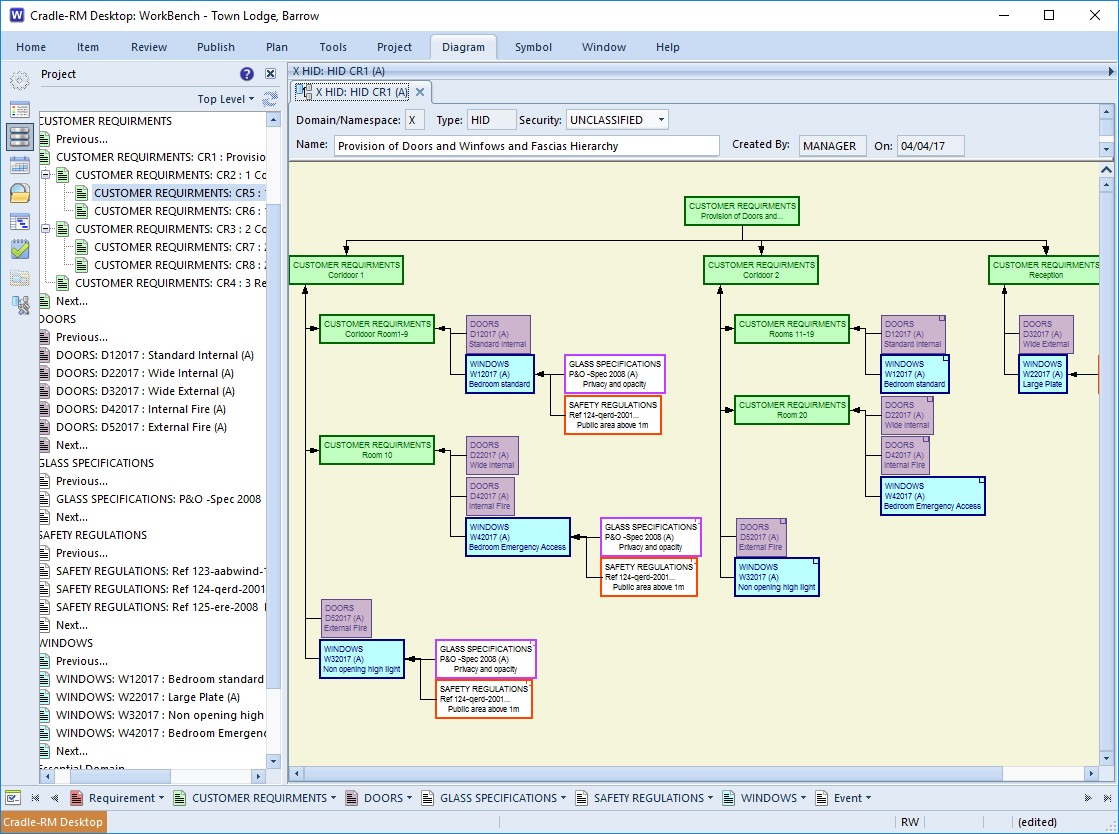 Managing Change
The quotation has been accepted by the Town-Lodge. However, you were careful enough to note that the price was 'subject to regulatory change'. When Ref 125-ere-2008 comes up for review and an amendment is raised, it is easy to trace what this impacts. Running a query on the Safety Regulations and showing the linked items, furthermore,  it can be seen these refer to the Emergency Access Windows. The trace shows these are linked to Customer Requirement CR6 and CR8. Finally it is a simple case of writing the email to the Town-Lodge and explaining regulatory change requires thicker glass and this will change the price for these two windows. Then await their approval. Therefore, in answer to your boss, "I can see the future for a tool to give us requirements management for windows and doors – can we buy a copy of Cradle ?"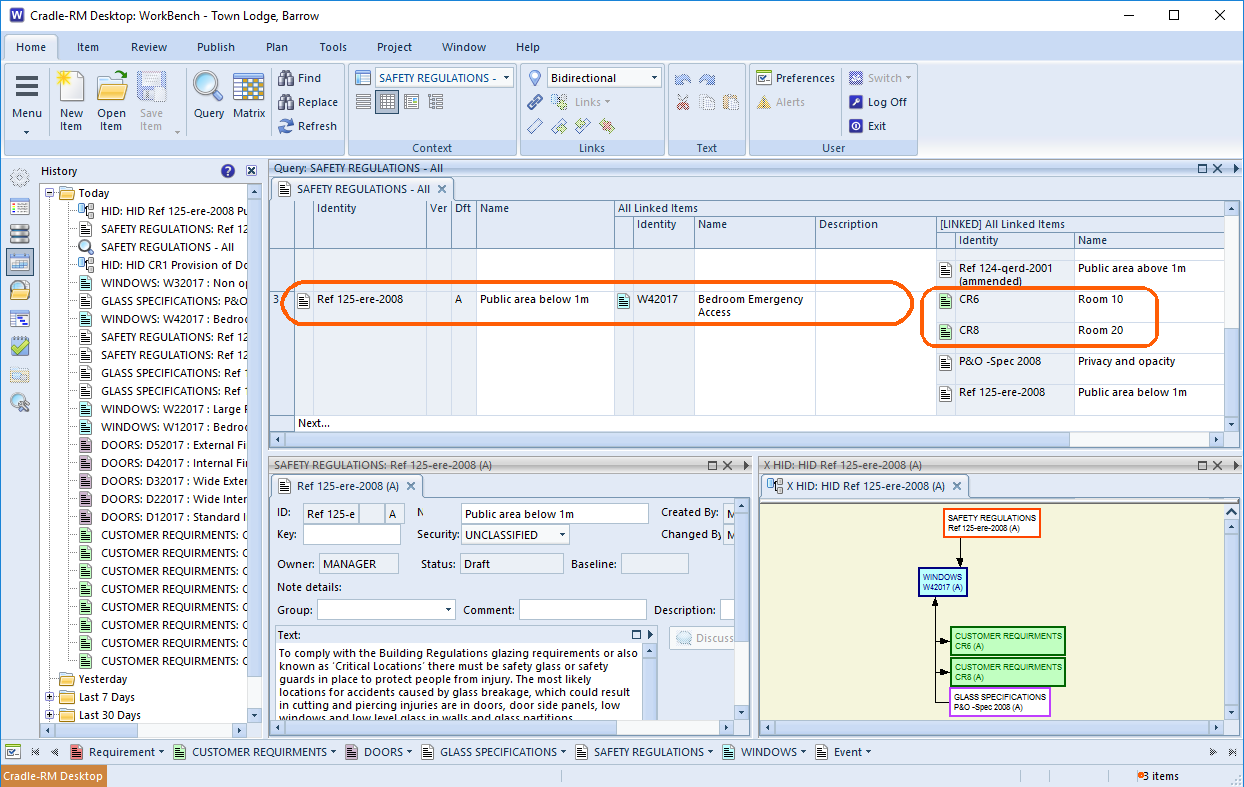 Validation and Acceptance
The Lodge has agreed that they will pay when the work has been completed satisfactorily. Prior to starting work you have agreed a set of acceptance criteria. There could be endless tweaks or subjective "I don't think that's finished" conversations unless clear acceptance criteria and associated validation techniques have been agreed. Imagine you have a noise reduction requirement, "The noise reduction between the window open and window closed shall be 6dB". Record the pre-agreed acceptance method as a Cradle item, and link this to each of the requirements with noise acceptance criteria. (This requirement in turn is linked to the rooms that it affects)
Noise Reduction Measurement. A white noise generator shall be sited at 1m from the window. The position will be adjusted until a measurement of 80db or more is detected inside the room with the window open at a distance of 1m inside the room. A second reading shall be taken with the window shut and this shall be subtracted from the first reading.
Running a query against the noise test will find all the rooms that this applies to. Now you can make your measurements and record your findings. You now have full traceability for each aspect of the product being delivered to The Lodge. "Dear Boss, Submit the invoice, Cradle aided demonstration to The Lodge site manager that all our acceptance criteria had been met. I think we've proved a use for requirements management for windows and doors."