Welcome to the September 2023 newsletter from 3SL!
This newsletter contains a mixture of news and technical information about us, and our requirements management and systems engineering tool "Cradle". We would especially like to welcome everyone who has purchased Cradle in the past month and those who are currently evaluating Cradle for their projects and processes.
We hope that 3SL and Cradle can deliver real and measurable benefits that help you to improve the information flow within, the quality and timeliness of, and the traceability, compliance and governance for, all of your current and future projects.
If you have any questions about your use of Cradle, please do not hesitate to contact 3SL Support.
Latest Updates
The latest technical and related topics in our blog are:
Follow these links to see the latest blog updates and then use the blog's search to find other topics of interest! With over 500 posts in the blog, we are sure that you will find lots to interest you in the details of Cradle and 3SL!
We would also like to thank all attendees on the Requirements Management course that we held in August.
Using PDUIDs
This section explains how PDUIDs can be used in Cradle.
Opening Items
You can open an item by simply specifying its PDUID. You do not need to specify the type of the item using the Item Type Chooser dialogs in the WorkBench and web UIs. For items in models, you do not need to choose the correct domain and then locate the model inside that domain.
You simply specify the PDUID:

The latest instance of the item will be opened.
Queries
You can find items based on their PDUIDs, or components of the PDUIDs, in addition to any other criteria that you may have set inside the query. Select the PUIDs tab in the Query Details dialog: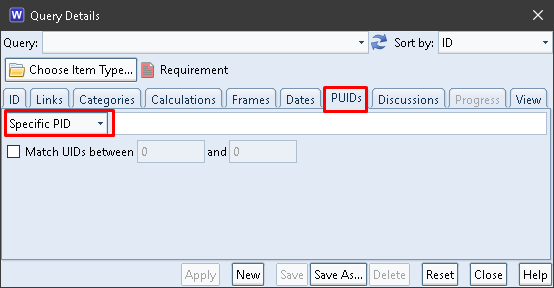 The selection of items by PDUID will return all instances that you can access RO or RW.
Further Details
For further details on this description of PDUIDs, please see the full blog entry here.
Testimonial
Our Support Team received a wonderful testimonial from one of our customers:
"The support team does an amazing job. Is the better support I ever have in a Software. It was very important decision factor to use CRADLE in the company. "
We try to deliver unrivalled service to all of our customers. If you have been especially pleased, or disappointed, with our support, then let us know!
Social Media
We celebrated #WorldWideWebDay
#Cytovale announced they have partnered with a leading health system (Franciscan Missionaries of Our Lady Health System) to improve sepsis care for their patients
Still to Come this Month
This course is a 2 day course split over 4 half days. It provides the following modules:
Introduction to Document Publisher
Designing a Template
Navigating the Interface
Tags and Hierarchies
Specification Document
Verification Document
Item Lists
Draft and Formal Documents
Your Highlights
If you have any company news or achievements that you would like 3SL to share in any of our newsletters then please let us know.